Un nuovo segreto è appena stato confermato. Johnny Depp, attore che interpreta il cattivo Grindelwald nella serie "Animali fantastici" tornerà nella terza parte per mettersi nella pelle del personaggio . Dopo essere apparso quasi come un cameo in " Animali fantastici e dove trovarli ", tornerà come il cattivo principale di " The Crimes of Grindelwald ". E, anche se sappiamo molto poco su ciò che accadrà nella terza puntata, sappiamo che il mago oscuro tornerà a fare il suo.
" E ' stato incredibile, è venuto fuori dal nulla , " ha detto Depp nell'intervista a Collider che ha dato questa notizia. "Mi è stato detto che JK Rowling ha voluto parlare con me. Rowling mi ha detto una cosa che non mi aspettavo di sentire : 'Non vedo l'ora di vedere cosa farai con il personaggio ' ".
In questo modo, sembra che l'attore non solo sarà legato a un ruolo che deve rispettare rigorosamente, ma avrà una certa libertà di portarlo sulla sua terra.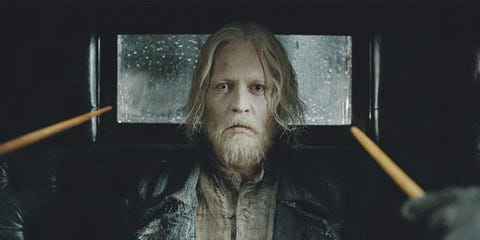 "Il solo fatto di darmi il ruolo con tanta sicurezza mi ha fatto sentire davvero stupito e commosso", ha aggiunto Depp. " Mi sono concentrato sulla localizzazione del personaggio all'interno delle mie idee e sembra che tutto abbia funzionato,Grindelwald è un personaggio interessante, le sue intenzioni sono per il bene superiore, abbiamo già visto i veri politici sentirsi allo stesso modo, è molto concentrato sulle sue convinzioni, questo è semplicemente divertente.
Hits: 28