Suona la campanella e inizia una nuova battaglia: 'Creed II: La leggenda di Rocky' continua ad ampliare la saga di Rocky Balboa (l'ottavo titolo di Rocky e il secondo degli 'spin-off' del post-balboista ) con una nuova storia di pugilato, orgoglio e allenamenti senza fine, con protagonista il figlio di Apollo Creed, Adonis ( Michael B. Jordan ). Ora, in un cenno al quarto capitolo della saga, il giovane combattente deve affrontare Viktor Drago ( Florian Munteanu ), il figlio di Ivan Drago ( Dolph Lundgren ), l'uomo che ha ucciso suo padre in battaglia. La rivalità tra Drago e Rocky (l'eterno Silvester Stallone ) rinasce nei corpi muscolosi dei loro allievi.
Il film ha già iniziato le sue avventure negli Stati Uniti, dove le prime recensioni della stampa sono state molto positive . Anche se siamo abbastanza sicuri che Creed non trascinerà tronchi degli alberi nella neve della Russia , sembra che il giovane pugile,convinca nella sua scoperta della propria identità nell'ombra sempre presente di suo padre alle spalle.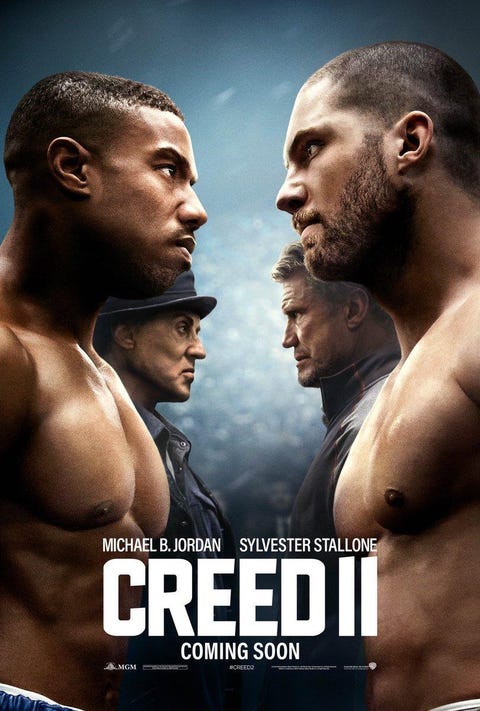 Owen Gleiberman di Variety assicura che si tratta di un "sequel toccante ed efficace" , che combina i momenti intimi e familiari con una buona "punzonatura a sorpresa". Anche rispetto ad altre consegne è "meno emozionante e più programmatica , " il critico non ha esitato a lodare non solo il film, ma anche e soprattutto il suo protagonista. Nel frattempo, in Entertainment Weekly 'Creed 2' è stato approvato per essere "una storia eccitante tra padri e figli, sulla colpevolezza e la redenzione, sulla solitudine e la famiglia … proprio il tipo di grandi temi sottili che da sempre ha guidato questa saga " . Questo promette lacrime.

In Mashable , comunque, Angie Han lo considera un passo indietro rispetto al precedente "Creed", sebbene ciò non significhi che alcuni carismatici come Ivan e Viktor drago emanano sorprendentemente una "strana simpatia". "Non è intelligente come il suo predecessore, né ha tanta profondità o sfumature, ma ha abbastanza per offrire qualcosa di soddisfacente e dolce ai fan di Rocky", scrive il portale CinemaBlend , che dà 4 stelle su 5 al film. Secondo la pubblicazione, il successo è nella ricerca di una sola risposta a una domanda: perché stiamo combattendo?"'Creed II' è assolutamente stimolante, combatte con i guanti il pubblico e mette fuori gioco le aspettative", dicono.
'Creed II: The Legend of Rocky' , arriverà nei cinema italiani il 24 Gennaio 2019 quindi pazienza. Nel frattempo, scalda i pugni.