Papa Winchester è tornato! Supernatural manderà in onda il suo 300 ° episodio il prossimo febbraio, e se ciò non fosse abbastanza entusiasmante per i fan, è stato confermato che Jeffrey Dean Morgan tornerà a riprendere il ruolo di John Winchester per il grande episodio intitolato "Libano".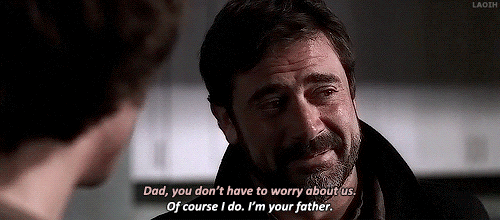 "Siamo incredibilmente entusiasti di riavere Jeffrey per questo episodio importante, e pensiamo che i fan apprezzeranno ciò che abbiamo programmato per il suo personaggio … e alcune altre guest star a sorpresa", ha
det
t
o
il produttore esecutivo Andrew Dabb.
Poco dopo l'annuncio della notizia, Morgan ha condiviso un'immagine della sua sceneggiatura su Twitter con la didascalia " non c'è posto come a casa".
there's no place like home. xojd @cw_spn @JensenAckles @jarpad pic.twitter.com/xOGpZDg29Q

— Jeffrey Dean Morgan (@JDMorgan) December 13, 2018
Morgan ha interpretato, il padre John di Sam (Jared Padalecki) e Dean (Jensen Ackles), per tutta la prima stagione e nella premiere e finale della seconda stagione per un totale di dodici episodi. Quindi, visto che la serie è giunto alla sua quattordicesima stagione, è sicuro che i fan lo hanno aspettato da molto tempo per fare il suo trionfale ritorno e non hanno perso tempo a piangere.
@JDMorgan WILL BE BACK IN 300th #Supernatural EPISODE AND IT MAKES ME SO HAPPY AND EMOTIONAL ! #PapaWinchesterIsBack pic.twitter.com/AvvKAptdjZ

— elodie ? (@ellodie_) December 12, 2018
It insane to think @JDMorgan hasnt been on the show since SEASON 2
Welcome Backkkkk#Supernatural #SPN pic.twitter.com/bTqQVr1AUb

— ⚔️ RONIN ⚔️ (@ConnerB96_) December 12, 2018
JEFFREY DEAN MORGAN IS COMING BACK TO SUPERNATURAL ??????❤❤ YES YES YES AND YES #spnfamily #Supernatural #spn pic.twitter.com/MBUsUKREVo

— Zainap Claus ???- Caryl ? (@ZainapMcReedus) December 12, 2018
YEEEEEEEEEEES!!!!!!! Daddy is coming back!!! #Supernatural https://t.co/klqj5oDYQB

— Robert Medyk (@RCMed) December 12, 2018
Al Comic-Con di San Diego di quest'anno, Dabb ha brevemente parlato di quello che aveva in mente per il 300 ° episodio, descrivendo l'episodio 100, trasmesso durante la quinta stagione, come "un episodio molto radicale" e il 200 ° episodio della stagione 10 come " molto nella direzione opposta"Quindi, per l'episodio 300, Dabb ha detto che" vogliono fare qualcosa che si trova nel mezzo ".
"L'idea tipo di fluttuare in questo momento è Sam e Dean, per anni, hanno vissuto nel bunker, che si trova in un posto chiamato Libano, Kansas, che è una vera città, una città molto piccola, ma non abbiamo mai realmente visto il Libano, nel Kansas, nello show. Non abbiamo mai visto veramente quello che queste persone in questa città pensano di questi due ragazzi che guidano questa muscle car.
Nel senso che l'episodio 300 sarebbe più orientato verso l'esterno, ma non temere, l'episodio mostrerà lo stesso cuore, la stessa storia e l'omicidio che i fan adorano nella serie.
Morgan potrebbe essere stato MIA su Supernatural per un bel po 'di tempo, ma da allora è sempre stato impegnato sia sul grande che sul piccolo schermo. Attualmente è il protagonista di The Walking Dead come il popolare cattivo Negan, un ruolo che interpreta dalla stagione 6 del 2016. Altri crediti televisivi per lui comprendono Extant con Halle Berry, The Good Wife, Texas Rising e Magic City. Nel film, Morgan è stato recentemente visto insieme a Dwayne Johnson in Rampage di quest'anno , in seguito a ruoli in film come Batman v Superman: Dawn of Justice, Heist, Red Dawn e The Courier.
Sei eccitato di vedere Jeffrey Dean Morgan su Supernatural?